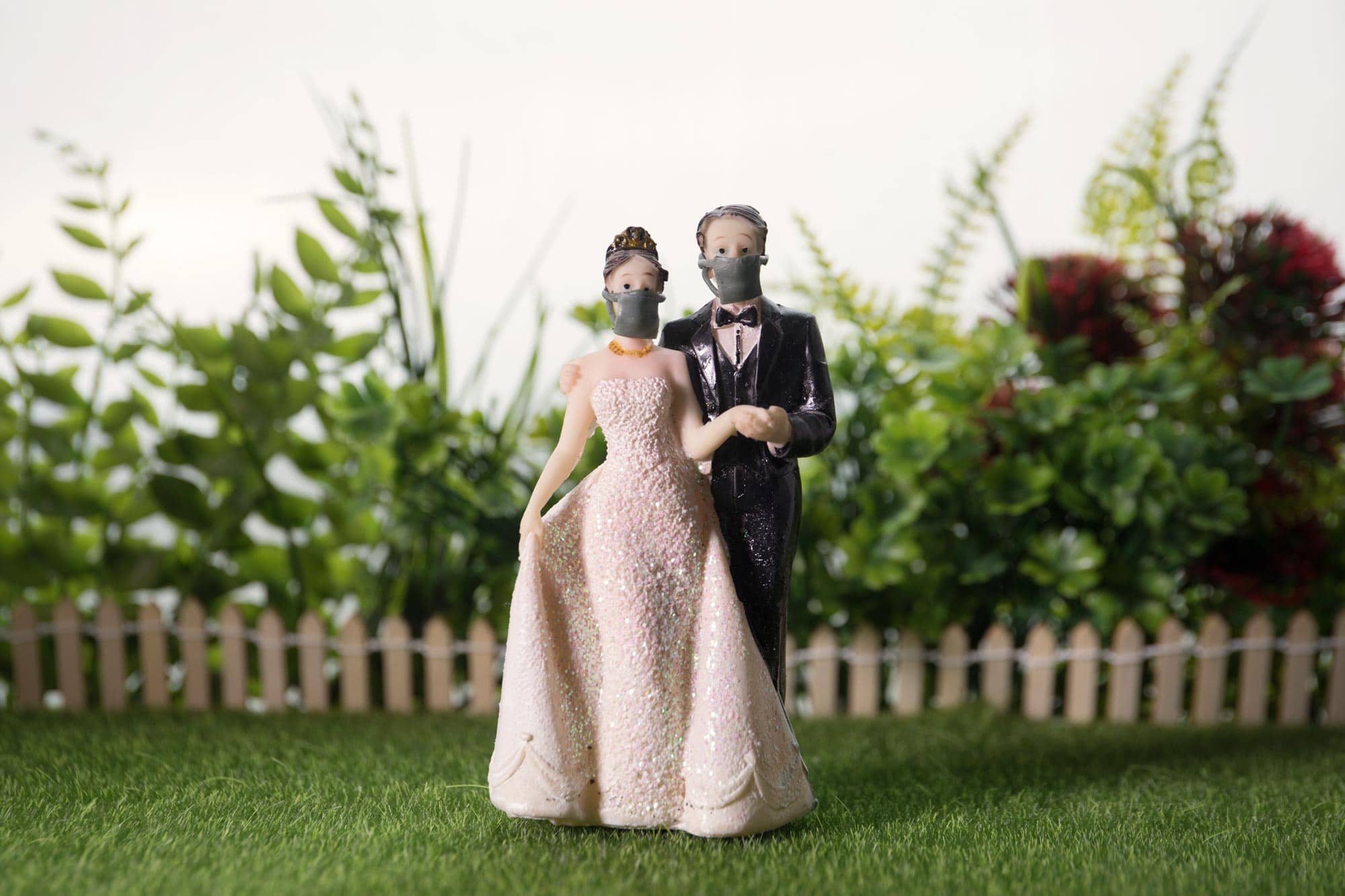 How to plan a wedding during a pandemic
You're engaged and want to start planning your wedding! You might ask yourself "Exactly how do I plan a wedding during a pandemic" Normally, you would go visit some venues, interview your photographer, wedding officiant, DJ, florist, try on wedding dresses and suits with your bridal party, sample food from the caterer and bakery, go shopping for decorations and gifts for the people you love. Drop into the county clerk to get your marriage license. Then, you wake up one morning, there's a global Pandemic and you have to "suit up" just to go to the grocery store! There's a shortage of hand sanitizer, disinfectant wipes, and toilet paper!!! What do you do now?!?
The very first thing you do is stay safe and make sure your family is staying safe and invest in some cute masks on Etsy. The next thing you do is take a deep breath and hug your partner. The most important thing is your mental and physical health, and your relationship! One of my favorite motivational speakers, Zig Ziglar said, "Many people spend more time in planning the wedding than they do in planning the marriage." This is your chance to do both!
You need to realize the best part of your marriage will be the two of you. Your love is the basis of your wedding and your marriage. Right now, work on being friends, holding hands, dancing in your living room, sharing and listening. Your honest, kind and respectful communication will help you for the rest of your lives together. Tell each other, "I love you" each and every day! Please find some time for fun!
A quick personal story, 10 days after we got married my world crashed. My feisty, bratty and awesome mom passed away unexpectedly. She was my best friend and the coolest mom in the neighborhood. I'm a very strong woman like my mom, but I fell apart. Lucky for me, I had an amazing new husband that spent hours, just holding me and listening. He knew that was what I needed. Our relationship became stronger and more meaningful going through such a rough time together. So remember, this will make you stronger if you take the time to listen, help, and hold each other. 
Now on to the planning! Number one, you need to really decide what the two of you want! This wedding or elopement or mini ceremony is for just for the two of you. I can't emphasize this enough, this isn't for mom, grandma, auntie or for your friends, it's your day. Do you want to do an intimate or adventure elopement, a mini wedding or have the big wedding with all the goodies? You can also do both, you could do an awesome elopement now,  so your legally married with all the benefits, like being on each other's health care and tax benefits. Then in a year or two, do the wedding with all the bells and whistles. See how one of our couples – Hayley & Richard – are doing just that here.
Let's take a look at each of these ideas, one at a time. An elopement can be just the two of you and an officiant, pretty much anywhere outside! You can also have a photographer, and maybe up to 10 people. How about in the mountains, the beach or the desert, a destination elopement or in a local park? All doable now, depending on permits and who's issuing marriage licenses. All of these options can be done with social distancing and if people want they can wear masks! Your vendors should definitely wear masks!
What exactly is a micro, intimate or mini wedding? Usually, it's 20-50 guests, so the costs are lower. This can either be similar to an elopement in a park or in nature (where permitted) or a regular wedding venue. We don't suggest a backyard due to so many people getting sick at these types of events. Social distancing and sanitizing is critical to keep yourself, your loved ones and your vendors safe! There can be seating of family units together in rows that are spaced further apart. At this particular time, there are still concerns about receptions, food handling and dancing.
And lastly, what to do if you talked about it, and you still want that big wedding you have dreamed about… Honestly, It is probably not safe to do an event with 100+ people until there's a vaccine. These types of events will most likely be in the last phase for most counties and states. Keeping your loved ones safe is critical, for your wedding to be remembered for all the right reasons! The good news is that you  can do that amazing elopement and then still have time to plan and save money for your big event. Please make sure your venue and vendors have a postponement, rescheduling and cancellation policy you're comfortable with.
Advice for booking your venue and vendors. Put together a budget! Be aware some popular locations and vendors book 12-24 months ahead of time. Many have had to reschedule their 2020 couples to 2021, Saturday weddings have booked up fast! You might get a discount from venues on Monday-Friday weddings. Next, start stalking (read reviews, check out social media and wedding websites) and start booking your venue, then photographers, videographers, DJ's and wedding officiants, they all book way ahead of time. Most of these professionals will do video and phone appointments, they can also send you photos and video of their venue or their work. Next, update your budget again! Then grab every wedding magazine you can or get on Pinterest and Instagram! Look at gowns, decorations, invitations and floral. See if local bridal salons are open for appointments, find your gown and update your budget one more time!
Wedding planning is always filled with challenges and now more than ever. You can do this! Organization, taking your time, having patience, be willing to explore new ideas and having a sense of humor will get you to the alter, one way or another! Alan and I have been involved in over 700 weddings and elopements, we are here to help. Take care, stay safe, hug each other and start planning your future together